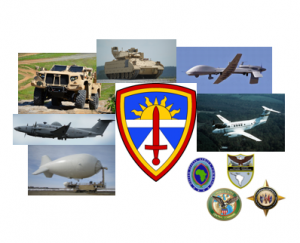 Army Evaluation Center
BMA has been a prime offeror on the Army Evaluation Center's Test and Evaluation Support Services (AEC-TESS) IDIQ since 2015. BMA has provided support to the test and evaluation of Mounted vehicular systems; Aviation fixed and rotary winged aircraft and their associated ground support systems; Electronic Warfare systems; and Cybersecurity assessments of Combatant Command networks. Primary duty locations are Aberdeen Proving Ground, Maryland; Stuttgart, Germany, ATEC Test Centers located at Fort Huachuca, Arizona, Yuma, Arizona, White Sands Missile Range, New Mexico; Redstone Test Center, Alabama; the following Combatant Commands: US European Command, US Africa Command, US Central Command, and US Southern Command; and in Theatres of Operations.
Team BMA provides the following testing and evaluation (T&E) support services to APG and the AEC:
Test Planning & Execution
Design of Experiments (DOE)
Performance Analysis & Reporting
Evaluation Methodology Development
Requirements Analysis
Database Management & Data Reduction
Distributed Test Integration & Execution
Operational Scenario Development
Modeling & Simulation Accreditation
Threat System Analysis
Team BMA support to AEC falls across the following Functional Areas:
Test and Evaluation Support
Data and Database Management
Evaluation Analytical and Verification Support
Methodology Studies and Analysis Support
Scientific and Technical Support
Test and Safety Management.
Team BMA current support to AEC includes:
Test and Evaluation support for the Bradley and Joint Light Tactical Vehicle programs.
Test and Evaluation support of the Grey Eagle unmanned aerial vehicle; Fixed -wing Utility Aircraft, and associated ground support equipment.
Test and Evaluation of opto-electrical sensors, Intelligence Fusion systems, and Airborne Intelligence Surveillance and Reconnaissance platforms such as Enhanced medium Altitude Reconnaissance and Surveillance System (EMARSS), Persistent Surveillance System-Tethered (PSS-T), Assured Position, Navigation and Timing (A-PNT); and Tactical Sigint Payload (TSP).
We provide support in the Cybersecurity assessment of Combatant Command operational networks.